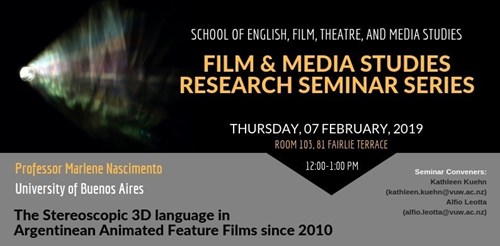 The Stereoscopic 3D language in Argentinean Animated Feature Films since 2010
Thursday, 7th February 2019
12:00-1:00pm
Room 103, 81 Fairlie Terrace
Join VUW and Professor Marlene Nascimento from the University of Buenos Aires as she presents "The Stereoscopic 3D language in Argentinean Animated Feature Films since 2010".
The presentation is part of the Film & Media Studies Research Seminar Series, organised by the School of English, Film, Theatre, and Media Studies at Victoria University of Wellington.
About the research:
This research looks at the specific language of Stereoscopic 3D techniques (S3D) in the framework of digital technology. It considers the relationship between aesthetic strategies and the forms of story-telling and representational content in Argentinean animated feature films that were produced and exhibited in S3D since 2010. Considering that animation as a language has its own rules of design, composition, story-telling and assembly in the broad field of audiovisual disciplines (Saenz Valiente, 2009), this study seeks to systematize how the characteristics of the design, production and distribution processes of S3D were constituted. It contextualizes a practice of designer and aesthetic fact, historically at the beginning of the 21st century and in relation to the conditions established by digital technology that makes it possible to sustain the pipe line of production.
About the speaker:
Marlene Nascimento is professor in audiovisual projects. She is the head of the Principles and Fundamentals of Animation stream in the Image and Sound Design Degree at the Faculty of Design in the University of Buenos Aires. She also teaches at the University of Salvador, University Abierta Interamericana and DAVINCI School. She is a director, creative, screenwriter and producer who develops and manages animation audiovisual projecs. She graduated with a degree in Audiovisual Communication at the Universidade de São Paulo, Brazil.