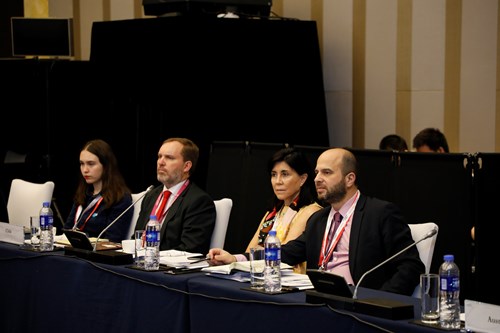 Chile is hosting APEC this year, with New Zealand hosting in 2021.   
LatAm CAPE and The Chile Pacific Foundation (FCHP) have been working together on an internship program for this APEC year in Chile. The chosen student gains experience working as part of the ABAC team, which is the Business Advisory arm of APEC, based at Fundación Chilena del Pacifico. 
Laura Somerset was the chosen student, a 20-year-old from Victoria University of Wellington currently in her final year of sociology, environmental studies, and studying Māori studies. 
She started her internship with the Chilean ABAC team in early July 2019 and will be there until early December this year. Her role is to help support the implementation and delivery of ABAC priorities and events, concluding with the ABAC Summit at the end of November in Santiago.   
 The benefits are not solely for Laura, but for the wider APEC, Chilean and New Zealand community. Laura is having regular targeted engagements with those different communities and the chance to pass on experiences learnt including business, language and cultural skills.     
 Laura recently attended the ABAC III meeting in Hangzhou, China. At the meeting Laura was acting as a staffer, providing support for the ABAC Members while they finalised their Letter of Recommendations to Leaders, which will be presented at the end of the year in Santiago during APEC Leaders' Week. While Laura was there, she also learnt about how ABAC meetings work, since she is also helping to plan the fourth and final one for 2019 in Santiago (in the same week as APEC Leaders' Week). 
 "Attending the ABAC III meeting in Hangzhou was invaluable to boosting my understanding of the APEC/ABAC ecosystem. I now feel like I have a much clearer understanding of who is responsible for what, and how documents are produced from beginning to end. By now I've made contacts with people in a lot of the different sections of the APEC and ABAC world, so I have a better handle on how they all work together" says Laura. 
 "The meeting overall was a really valuable experience, where I learned a lot about the structure of ABAC and how international-level cooperation really plays out". 
 ABAC was created by APEC Leaders in 1995 to be the primary voice of business in APEC. Each economy has three members who are appointed by their respective Leaders. They meet four times a year in preparation for the presentation of their recommendations to the Leaders in a dialogue that is a key event in the annual Leaders Meeting. 
We look forward to updating Laura's experiences throughout her internship in Chile.