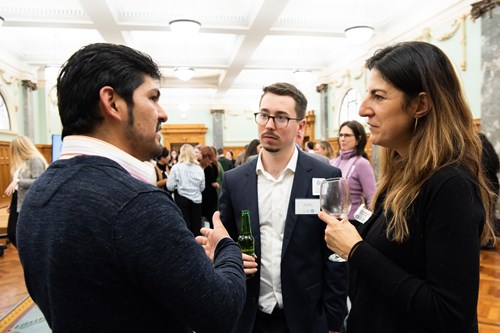 The middle months of the year have seen our Centre of Asia-Pacific Excellence provide extraordinary development opportunities for secondary and tertiary students from across New Zealand.
In mid-July, we joined with our fellow CAPEs in sponsoring tertiary students from the University of Auckland, the University of Waikato, Massey University, Victoria University of Wellington, the University of Canterbury and the University of Otago to attend the New Zealand Institute of International Affairs' flagship conference, Standing in the Future: New Zealand and the Indo Pacific Region. Bringing these students together gave them the opportunity to meet with experts from government agencies and academia and build relationships with like-minded peers.
The day before the conference, too, each CAPE ran sessions with their students that focused on their specific region. Our 15 LatAm CAPE students heard about the Indo-Pacific's relevance to Latin America from Professor David Capie and Emeritus Professor Rob Rabel he Centre for Strategic Studies at Wellington. One of the students, Canterbury's Beatrice Holman, described the whole experience in these words: "I walked away with a notepad and brain full of thoughts and ideas - my hope is that I can incorporate these (and how NZ could do more with Latin America) into my dissertation to advance the conversations that were had. I also loved meeting some new and like-minded friends through LatAm CAPE, at the beginning they said we were now a part of their whānau and it couldn't be more true!"
At the same time we were undertaking this initiative, furthermore, we also made it possible for a group of secondary school pupils to spend their school holidays learning about Latin American business.
In the latest expression of our vibrant multi-year partnership with the Young Enterprise Trust (YES), we developed the Latin American knowledge and awareness of 16 Year 12 and 13 pupils from across New Zealand by taking them to leading exporters in Hamilton and Dunedin and government agencies and embassies in Wellington on our latest "LatAmBiz" programme.
Before Covid-19, this programme took students to South America on business and cultural immersion tours. With closed borders, however, we have made the immersions domestic, and over 10 impactful and fun-filled days companies like Gallagher, LIC, AbacusBio and AD Instruments who are thriving in the region generously briefed the students. This year, too, the experience was notable for challenging students' prior stereotypes about the region and for the benefits the New Zealand-born students gained from engaging with peers from Latin American backgrounds. 
As with our NZIIA students, however, we are not just looking to provide these young people a one-off exceptional opportunity. Rather, we are seeking to seed a new generation of future leaders of New Zealand Latin American relations and to connect them to related initiatives – like the Young Professionals Network of the Latin America New Zealand Business Council we also support. As such, we are now fully immersed in our other 2021 offering for YES students: our second "Globalistas-in-Action" weekend in August for all the YES students we have introduced to Latin America since 2017. Standby for news of that weekend soon!