The Latin America and Spain Film Festival opened in September and has been showing a wonderful selection of films in twelve venues across the country. The Festival draws to a close in Taupo on 7 December.
The Festival, in its 17th year, showcases contemporary cinema from across Latin America and Spain - celebrating Latin American and Spanish cultures with New Zealanders through the big screen. Audiences from Waiheke Island to Queenstown have enjoyed a wide range of films – all free and subtitled – a great way to appreciate the diversity of Latin America and Spanish cultures and understand what people value.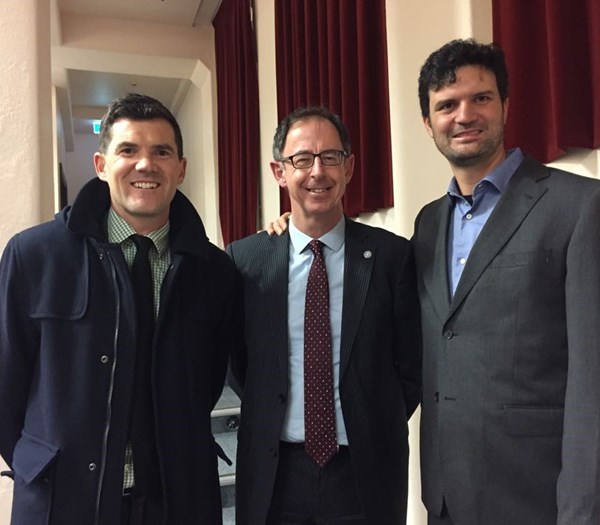 Together with the Embassy of Mexico in New Zealand, we were pleased to bring Mexican film director Roberto Girault to New Zealand for the opening of the Festival. His film, Ilusiones S.A, featured as part of the Festival.
As Roberto puts it, different cultures see the world differently: "In the way we see life and the way we see death, relationships and family. Religion, faith and hope, all those things that frame our life. Film is a window into how people see the world."
Pictured L-R are Justin Lester, Mayor of Wellington City, Matthew O'Meagher, Director, Latin America CAPE and Roberto Girault, Mexican Film Director at the opening of the Festival in Wellington on 4 September.
During his time in New Zealand Roberto delivered Masterclasses with staff and students at Victoria University of Wellington and Massey University, where he passed on some of his key learnings – the most important being how to be a great leader.
Roberto was also interviewed on TVNZ's Breakfast programme. You can see the full interview below.