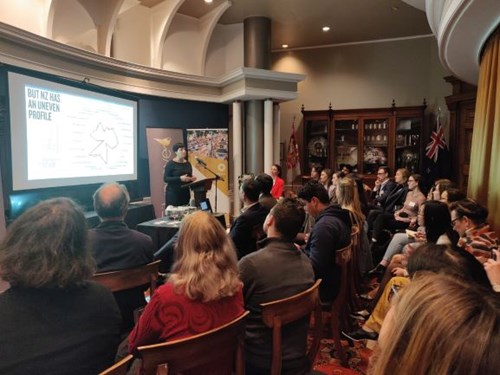 Market Insights Programme 2019  
The CAPEs 2019 Market Insights Programme (Programme) is in full swing, with domestic and international students doing internships in New Zealand businesses, who are looking to export their services and products in the Asia-Pacific region.   
MIP is now in Auckland, Hamilton and Wellington as a cross-CAPEs project.  We also have a wide variety of businesses participating including Tuia Group, Pik Pok and Comvita, for example.   
The MIP workshops held to date in Wellington with our expert partners have been a great success.  The Doing Business in the Asia-Pacific Region session featured Prof Ian Williamson, the Pro-Vice Chancellor and Dean of Commerce Victoria University of Wellington Business School.  Prof Williamson introduced an academic perspective on doing business in the region through his research, showing how good governance can help a country be more competitive internationally.    
The workshop panel included Malcolm Foo (formerly PWC Advisor, Indonesia/Southeast Asia), Dr Ben Fath (University of Auckland, North Asia), and José Brandão (Victoria University PhD candidate, Latin America).   
They featured real-world challenges of doing business in their respective regions – including how to confront corruption and culture-specific ways of doing business.  All participants agreed it is important for New Zealand to diversify its markets and increase our global competence to step up our economic, political and social performance. 
 The second MIP Wellington workshop focused on Marketing and Branding and was hosted by Silvereye Communications.  Speakers included Jo Coughlan and Libby English (Silvereye Communications), Rebecca Smith (Director, NZ Story) and Katrina McClelland (Digital Marketing Specialist, Antipodes).  Peak learning from successes and failures were featured:   
1. Silvereye Communications shared a case study about countering negative perceptions of a New Zealand-based overseas-owned bottled water company. 
2. Rebecca Smith highlighted how New Zealand struggles internationally to gain consumer recognition overseas given we have virtually no globally famous brands.  Also, the unintended consequences of the 'clean green campaign' offshore can lead to perceptions that we're a beautiful wild country but incapable of producing high tech products and solutions, for example.  Please see the free resources that NZ Story offers to businesses here. 
3. Katrina McClelland (Antipodes) described the learning process that Antipodes had getting into the Asian market – including how to deal with countless counterfeit versions of their products and how to protect their intellectual property (IP). 
Businesses and students participating in MIP also shared examples about the culture-specific aspects of how overseas consumers relate to New Zealand marketing campaigns, product design, packaging, and translated information about products. 
We'll report back in a future newsletter on our final MIP Wellington workshop: Keys to Global success – Intercultural Capability (to be hosted by Beca).  Also, keep an eye out for profiles about some of our MIP students, who represent an amazing diversity of peoples, languages and experience.