A group of ten Māori students from across New Zealand universities has just returned from Chile, where they experienced the local business environment and business opportunities in indigenous contexts.
Te Hononga-ā-Kiwa (referring to the connections of people across the Pacific) is an opportunity being offered as part of our partnership with the University of Waikato and is all about increasing Māori business capability and improving Māori business engagement in Latin America.
Te Hononga-ā-Kiwa aims to grow the next generation of Māori business leaders by giving them first-hand insights and understanding of the challenges and opportunities for Māori business in Latin America.
The group was given a warm and indigenous Mapuche welcome on their arrival last week. It was great to hear one of our students, Jack Potaka, deliver the response to the welcome in Te Reo Māori and Spanish.
While in Chile the students considered the value of indigenous cultural practices, identities and language within business and how this can impact business success. They used the historic Māori All Blacks game against Chile to experience how a Māori business operates in an international market and considered how to better leverage Māori business interests and opportunities in and around global brands.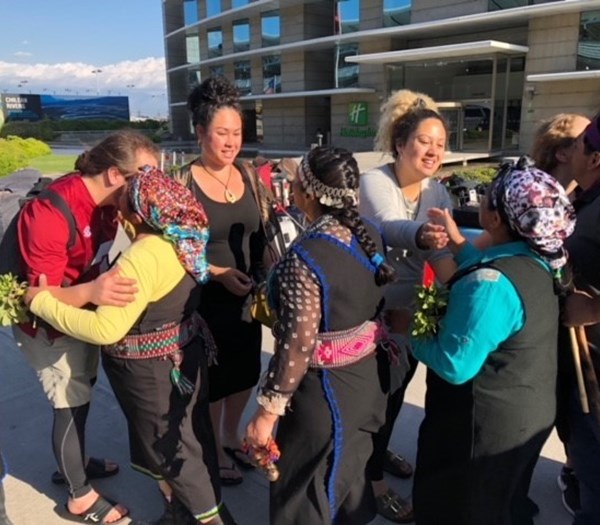 The group was fortunate to attend a session at the Chilean Ministry of Foreign Affairs around indigenous relations and development. The panel discussion outlined the historical and contemporary realities between indigenous people and the Crown. Chris Finlayson, a former New Zealand Minister for Treaty Negotiations, was a member of the panel and spoke about the experiences of working with iwi Maori to progress settlements in Aotearoa.
The group had a great visit to the Incuba UC Innovation Centre on start-up and indigenous business programmes where they met with representatives from the Chilean National Corporation of Indigenous Development and the Centre of Indigenous Business. The students were encouraged by the great innovation opportunities available.
Look out for more updates and insights from these students as they reflect on their experience in Chile.