10 Kiwi university students had the chance of a lifetime in December 2019, spending a week in São Paulo focusing on doing business in Brazil and entrepreneurship and innovation with 10 Brazilian students from the Universidade de São Paulo (USP) and the Escola Superior de Propaganda e Marketing (ESPM). 
"Overwhelming and inspiring" is a common description by the Kiwi students about the week in São Paulo (a city of 20 million people).  The group attended lectures on strategy and innovation, marketing and sustainability, social businesses, and luxury markets.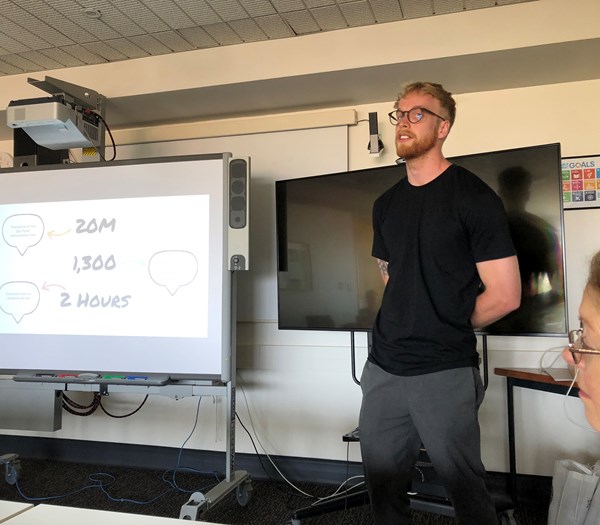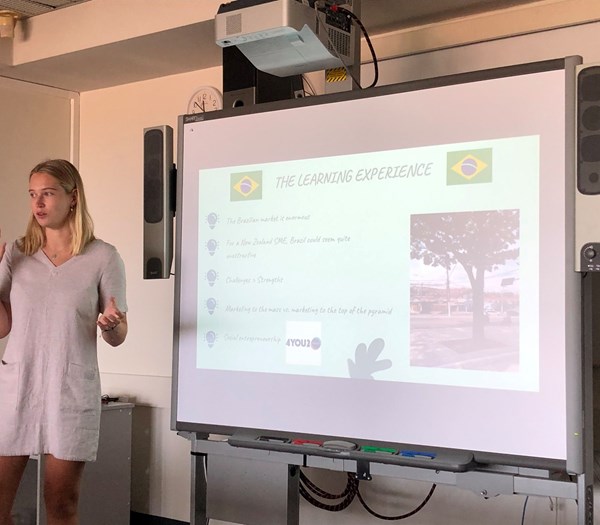 Business visits included to, for example,  Canal da Peça (a digital platform that brings together 500 retailers from all regions of Brazil to sell and buy auto parts with more than 700m thousand pieces for vehicles), Natura Cosméticos (one of the most innovative companies in Brazil, using Amazonian fruits in its products and to promote the conservation of biodiversity), and 4You2, a social business that brings English language courses at an accessible cost to communities and students that wouldn't normally have the chance to study a second language. 
The week culminated in a case study competition where the Kiwis worked with their Brazilian counterparts in 5 'Braziwi' teams to provide solutions to real-time business challenges.
The winning 6 students (4 Kiwis and 2 Brazilians) then attended an Accelerator Programme at the University of Otago at the end of January 2020: Laryssa Andersen (Massey), Lucy Houghton (Victoria University), Nicole Fermi (ESPM, Brazil), Jacob Ross-Murphy (AUT), Gabriel Figueiredo (USP, Brazil), and Josh Morrison (Otago). Here, the Braziwi group attended lectures on doing business in NZ, sustainable investing and climate finance, entrepreneurship and innovation, sustainability in business, innovation and entrepreneurship in food and beverage technology and attended an 'audacious workshop' at StartUp Dunedin. Business visits included to AD Instruments, Oritain, Invermay Research Facility, Ocho Chocolate, Powerhouse Wind, Emersons Brewing and Petridish.
Final presentations from the group on peak learning about doing business in both Brazil and New Zealand, and opportunities for the future were revealing. Students spoke about how their views about doing business now and in the future have been radically altered over this in total 2 week Brazil – New Zealand programme. The impact of cultural differences and understanding the critical importance of sustainability in business were also key topics. For example, Gabriel Figueiredo (USP, Brazil) speaks here about cultural differences between Brazil and New Zealand and how that influences business.
The deep connections formed during this project have been a highlight for all students and all have reported just how much the programme will influence their future study and career choices and indeed their lives. Watch out in future newsletters for check-in videos with the NZ participants on how they have been applying their learning.
Many thanks to our project partners Universities NZ, Campus B, USP, ESPM, and Otago University. Muito obrigado (many thanks) also to Dr Frederico Botafogo for being the lead academic for this project from the University of Otago.
Finally, we'll leave it up to Laryssa and Jacob who summed up their thoughts nicely in Portuguese about doing business in  Brazil:  "Quem não arrisca, não petisca" (if you don't take a risk, you won't reap the rewards)".