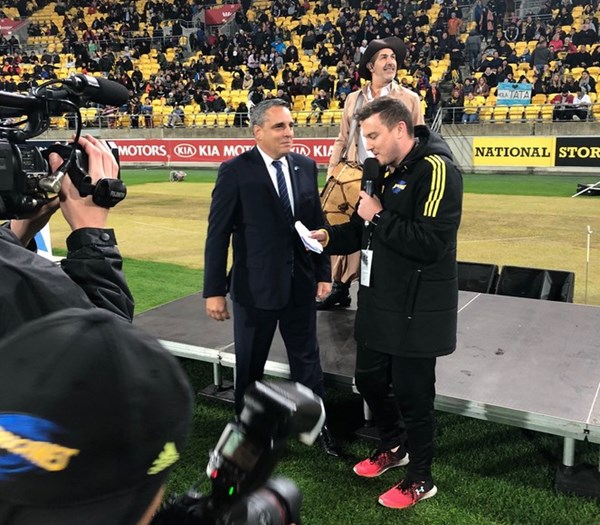 The Latin America CAPE together with the Embassy of Argentina brought a bit of Argentina to Wellington when the Jaguares faced off against the Hurricanes on 17 May.
The day before the showdown in WestPac Stadium, young rugby players in Petone got to meet and train with players from the Jaguares. The evening was topped off with a performance by traditional malambo dancer and gaúcho Fabio Robles. The Latin America CAPE Director Matthew O'Meagher and the Ambassador of Argentina Fausto Lopez Crozet both spoke about the importance of exciting cultural exchanges to the crowd, before Kiwis performed a haka for their guests. Māori TV (Te Ao Māori News) was on hand to record the evening's events and cultural exchange in their broadcast Jaguares share their culture with Petone Rugby Club.
Fabio performed in front of a much larger crowd of Jaguares and Hurricanes fans during the halftime show on Friday. The powerful folk dance seemed to work its magic - the Jaguares went on to beat the Hurricanes 28-20. Turn your sound up and check out the rhythm in the video below, courtesy of the Embassy of the Republic of Argentina.